Follow the Leader
I'm feeling compelled to rant... Thus the title of this post may make you think I'm going to rant about US imperialism, or Kim Jong-Il, our beloved leader. No, just
Bren
, and it's not even a rant. No, it's a reference to my lack of creativity. Granted, a rant is not about being creative, it's about making people aware of a particular subject. I digress.
Grab the nearest book.
Open the book to page 123.
Find the fifth sentence.
Post the text of the next 3 sentences on your blog along with these instructions.
Don't you dare dig for that "cool" or "intellectual" book in your closet! I know you were thinking about it! Just pick up whatever is closest.
Okay, so the closest text is
FRENCH

FOR TRAVELLERS
, page 123 is 'The Beauty Parlour' and the first of three lines (sentences) would be
with bangs

des anglaises
While funnier, it's not an actual 'book', so I'll go get one... be right back. Okay:
Some were told I'd been sentenced to death, others that I would receive a life sentence. The news reached the ears of my wife and mother.
Deling's sister-in-law told her, "Go home to your mother and marry someone else as soon as possible. There's no chance Yun will ever come back home to you."
This is from
The Heavenly Man: the remarkable true story of Chinese Christian Brother Yun
, which I'm currently reading, and was the closest book.
the earley edition
- Posted by Dave @
2/28/2005 01:53:00 am
||
||
---
Saturday, February 26, 2005
Hypnophobia
Apparently, the fear of sleep or of being hypnotised. I don't actually have a phobia, but I really seem to spend far too much time avoiding Sleep. I have been reading blogs and surfing the net for the past (compare post differential) 3 hours and 25 minutes. I guess I'll be lying (!) down now. There's just so much to see and do.
the earley edition
- Posted by Dave @
2/26/2005 05:29:00 am
||
||
---
Shiny New Plastic
I've not felt particularly scribe-like this past week. You would probably know that, it having been a week since my last post. Yes, Suzanne, my sleep was depraved... Let's see, worked 6.30pm to 4.30am last Friday night. Didn't get to sleep until 7am, then up at 12.30 to get to the other side of Brisbane to help an uncle move by 1.30pm. But no, and thank you Suzanne, not in fact needed until close to 3pm, so sat around most of that time before moving boxes, furniture and other such things into a large truck until 4.15pm. Home with enough time to shower and get out the door to church dinner, straight from there to an engagement party. Home relatively early, midnight, but couldn't sleep until 3.30am. Up again at 4.30am to be at work at 5. Yes, one hour of sleep before hitting a 9 hour shift on Sunday. Sundays are busy anyway, so after driving Korean couple Darby and Cathy home from church and talking to Kate in the car, I got to bed around 1am again. Yes, Suzanne, I think depraved is an accurate description of my state of sleep over that weekend - whether the expression was intended or not.
But what did I do this week? Well, I've got a new mp3 player, new mobile phone, some new clothes... The mp3 player is not an iPod unfortunately; I couldn't justify the expense and so got a cheap 256mb one with FM and voice recording built in, which is good. The phone is a Nokia 6610i, pretty sweet. $20/month with $15/month credit free. I don't spend more than $15 or $20 a month on calls/txts, so $5/month for a new phone is pretty sweet methinks. New clothes - well, let's just say Kate has been helping my fashion rating. Making me look better...if that's even possible! Ha. ha.
Well, tomorrow I get to play sport again after some four or five months without. Very much looking forward to running around with a ball again and beating someone. Unfortunately if I crash tackle some stick-thin soccer player I'll get sent off... it's just not rugby y'know? At least it's being competitive.
I'll try to keep in touch a little more than weekly, but I make no promises. Ah yes, back to university on Monday. Looking forward to everything except French, seeing as I've forgotten most of what I learnt last year. Three months of not reading, writing or speaking a language you're trying to learn can do that to you.
the earley edition
- Posted by Dave @
2/26/2005 02:04:00 am
||
||
---
Saturday, February 19, 2005
Conundrums of the Universe, #192
To lie, or not to lie? That is the question. When you have lied to someone, have you been lieing or lying? And when you were sleeping, were you lying or lieing down, or simply laying?
the earley edition
- Posted by Dave @
2/19/2005 06:05:00 am
||
||
---
Hoo-ah
It's 5.47am. I worked 10 hours last night, finishing at 4.30, stretched a bit and then ran home from work... I can't think. I'm absolutely exhausted. So, today: help an uncle move, go to church dinner, leave early from that to go to engagement party, die of sleep depravation.
Sounds like a plan, I say as my head lists slightly before crashing into the keyboard below. Good night.
the earley edition
- Posted by Dave @
2/19/2005 05:47:00 am
||
||
---
Thursday, February 17, 2005
Stuf stuff
Something I forgot to put in the post about Kate is some of the notes she's given me. It's always nice to get something that's handwritten, rather than a text message or an email. It's second only to actual face-to-face communication with that special person. Yes, even better than a phone call because you can carry it with you, look at it anytime you like...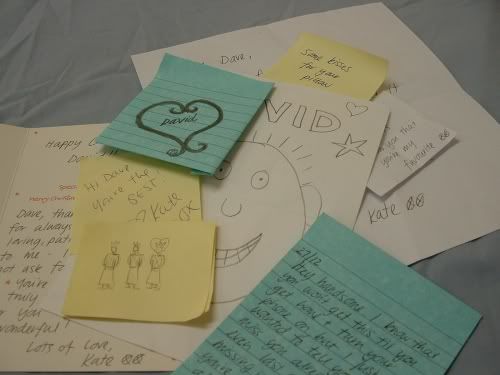 Collection of notes from Kate to me
... and be reminded of the laughter or happiness it first induced in you. The portrait of me is a reference to
Napoleon Dynamite's
"there's plenty more where this came from if you come to the dance with me", and was under my windscreen wiper when I finished work one night. Good times.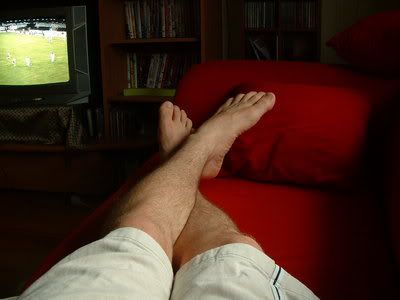 Hanging out at Kate's place watching the live soccer at 5am
the earley edition
- Posted by Dave @
2/17/2005 09:38:00 am
||
||
---
Take. Control.
It's always a fine line between wanting to tell a funny story, just tell what I've been up to, or rant and rave about the injustices in the world. On this blog, ladies and gentlemen, I generally fail at all three.
So I woke up this fine morning thinking, "Dave, it's 10am, take control of your life." Now granted, I was at Kate's till 2am and didn't go straight to bed when I got home but seriously, get a grip man! Actually that's probably not the first thing I thought, but I did say it to Kate when she came around at 11. So being the obsessive compulsive she is, Kate suggested I make a list of what needed to be done to achieve that. And so, today became the day I took control.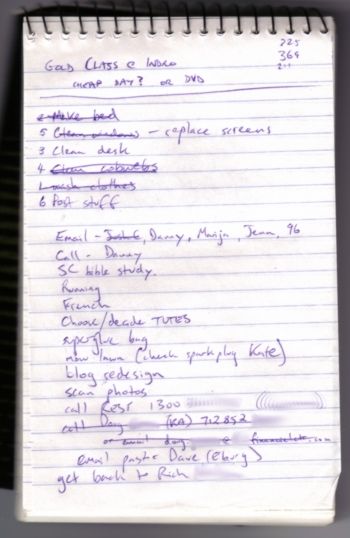 Okay, so I didn't get everything on the list done. Some are do-from-now-on things, like running and french, while others, well, I did only have half a day, cut me some slack! It's never enough for you people is it?!
So I finished work at 1am and ran the 4km home. Now it's 3.15am and I'm going down the coast with Kate sometime between 9 and 10. Take that, Life! *sigh*
On another note, this was my Valentine's gift from Kate. Very nice - acrylic, I think, on some sort of hard board. Personal message on the back :)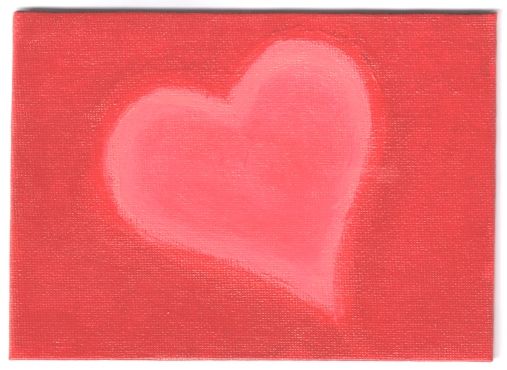 the earley edition
- Posted by Dave @
2/17/2005 03:25:00 am
||
||
---
Sunday, February 13, 2005
Kate
This is a post about my girlfriend, Kate. Now, I think it would be wise to say this post is not entered into without a great deal of thought. That's not guaranteeing anything as to the quality of written expression, emotional quotient or general hilarity and hi-jinks contained. Alright, disclaimer aside, let's get to it.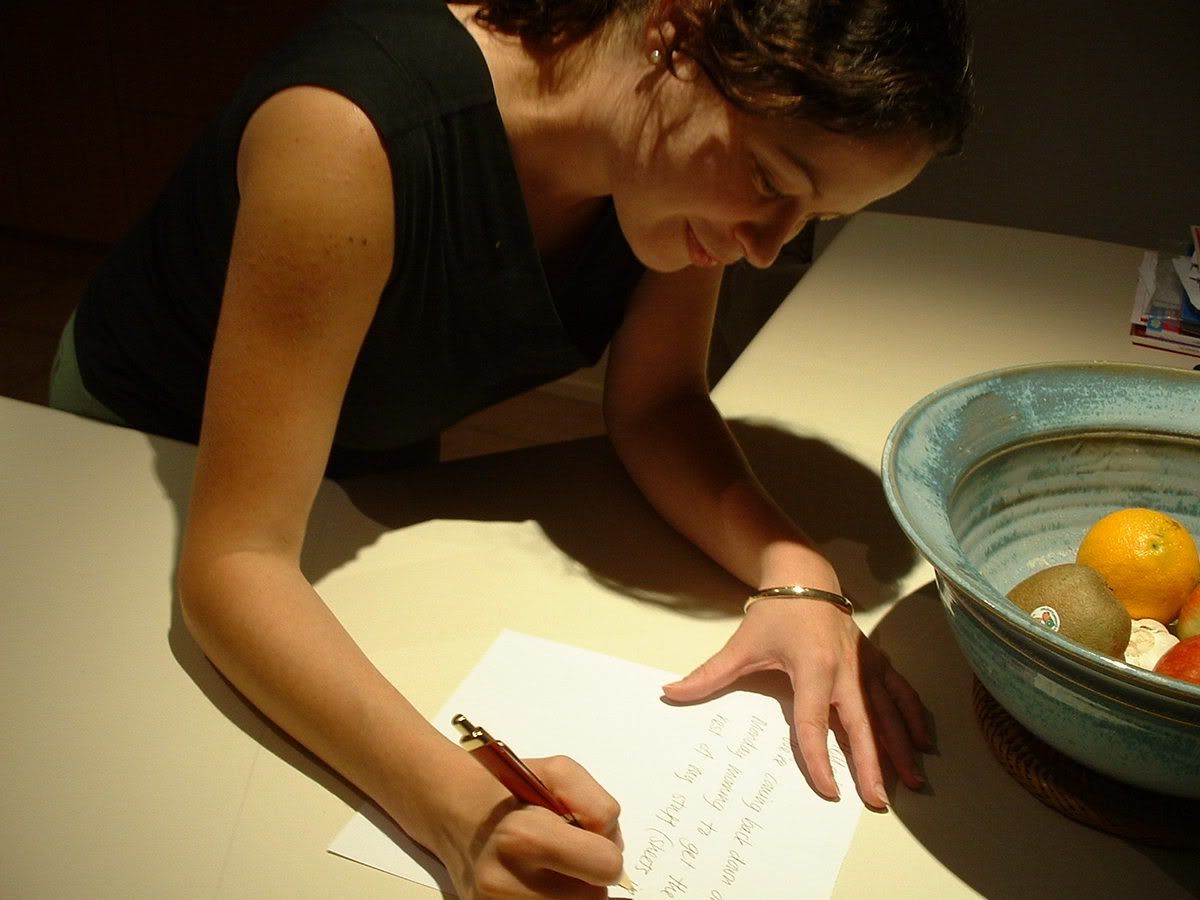 I've known Kate for quite a while, probably a decade or more, but never really
knew
her until two years ago. We went to the same church as adolescents but never ran in the same circles. Even after I returned from the US in 2003 we didn't have much reason to get to know each other and so it wasn't until about 6 months ago that the thought even entered my mind. That thought being, "She's a bit of alright."
The rest being a bit long, I will sum up now why I like Kate. I've been at a bit of a loss as to what I can really tell. How to describe why I like her. I just do. I enjoy spending time with her. I like that her favorite food is popcorn, that she thinks Mike Myers is the funniest person alive and quotes from Wayne's World. I like how when she wants to get something done her slightly obsessive compulsive organisational skills make her a disciplined and hard worker. I think she's one of the funniest women I've ever met and she finds my socially-challenged sense of humour amusing, a feat in itself. I like that she desires more open and honest relationships in the church, and greatly respect her passion for social justice, particularly in relation to disadvantaged women. I like her lips, them's good for kissing. Well, we're being honest. And what a sweet smile! I like that she knows what she wants to do, and is working hard towards that (Bachelor of Law, Bachelor of Arts, now doing post-grad Bachelor Social Work). I like her passion for this great country, Australia, and above all else, what first began to attract me to her, her godly character. Kate wears her heart on her sleeve, and her passion for Christ and obvious excitement at the prospect of fulfillment of the great commission drew me to her.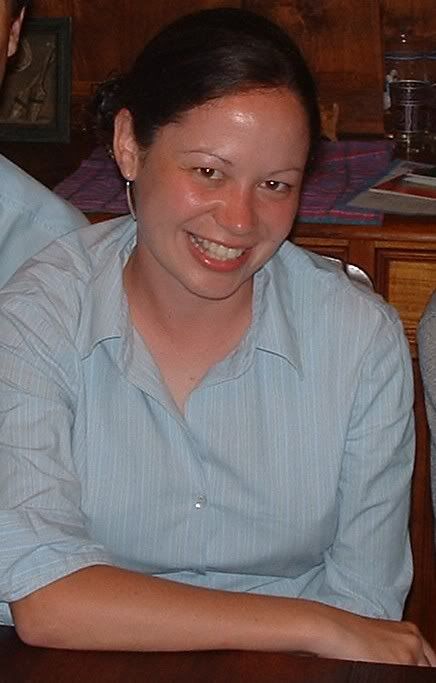 Kate at BeachMission after-party. This was taken early 2003, well before I liked Kate, or she liked me. Not-so-insignificant others Pete and Joel removed from picture; no, not boyfriends.
I have now discovered it was about August last year Kate thought for the first time, "He's pretty nice," while we were in the same small group over a weekend church event. I've got to point out, this is something I like about Kate. She wasn't originally attracted to me just for what she saw on the outside, but something else she saw in me when we really talked for the first time. After that weekend we started to slowly circle each other, interacting more and more often, completely unawares I think to the mild attraction we were feeling towards each other. We started to become friends and about six weeks later, halfway through the university semester, Kate sent an email to ask what was making me so sad. I told her what was really going on with university, the fact it was going down the drain and I was going to fail every class that semester. I've actually still got the response to that email saved as a draft post (
now a real post, backdated
). The long and short of it is she was going through
exactly
the same thing and we ended up 'studying' together to try and do some work, at least enough to pass classes. Yes, we were together almost every day for the last seven or eight weeks of the semester. For that reason, even though we've
only
been going out three months, it seems like five.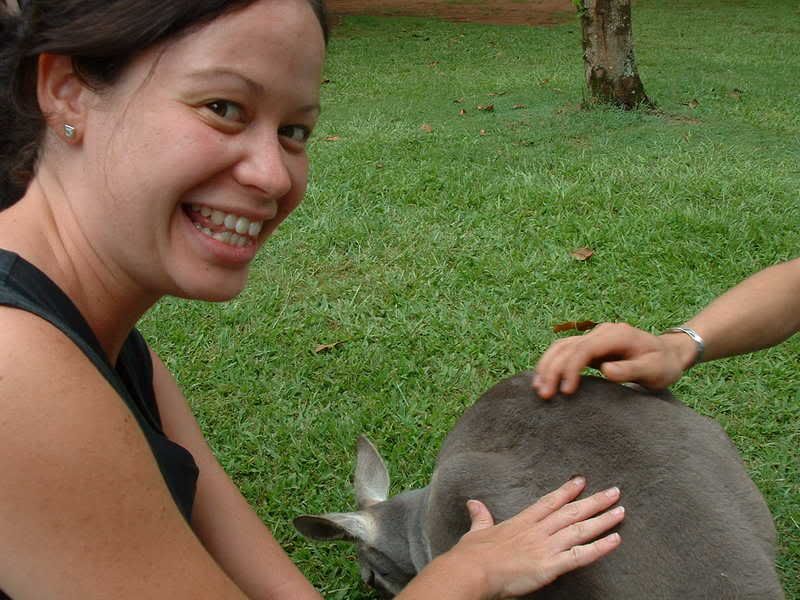 Kate gets touchy-feely with kangaroo at Australia Zoo, Steve Irwin's hideout.
I had already discussed briefly with Roxy, Kate's
flatmate
, and mutual friend, why I had been hesitant to do anything further with Kate, namely our mutual oppressive university loads. It was quite amusing when Roxy sent me a text message telling me to ask Kate about her midnight deadline. Being in the midst of university stress I assumed she was avoiding some assessment that needed to be submitted online by midnight. No, Kate had a deadline, moved back several times already, by which time she expected me to 'make a move', as it were. This was immediately apparent in the following excerpt from a telephone conversation...
Dave:

...sooooo. What have you got due at midnight?


Kate:

(awkward silence)

What?


Dave:

uhhh...I think you have a deadline at

(penny drops)

, huh, midnight.


Kate:

Who told you that?


Dave:

ummm. Haha. Ahhhh, a little birdie.


Kate:

Roxy is so dead.
I had the day before been in contact with a student services counsellor who had written me letters of referral recommending I be granted extensions in three out of four classes, extensions without which I would have failed all three classes. The following texts were exchanged later that night, mine sent after finishing work at midnight.
Dave - 04/11/2004 00:15


If awake(or not),i have a qs.Answer can wait but can qs?Deadline just passed...&valid reason4that-if u'll grant extnsn.Mr Ung supports this application :-)



Kate - 04/11/2004 06:19:35


After careful consideration of your application & due to the surrounding circumstances I have decided to grant you an extension. The extension however is not indefinite & I will expect you to meet deadline as soon as circumstances allow ;-)
And so we had an understanding. After my final assessment was handed in we talked and I asked her out on Wednesday November 24, 2004 (24/11/04). We've gone through some tough times, almost breaking up two weeks after going out because of both our overanalytical natures, and struggling with questions of either our compatability or desire to committ to each other. It's all necessary though. Kate leaves for India in August or September, where she will spend up to one year. We will need to know by then where we stand as a couple.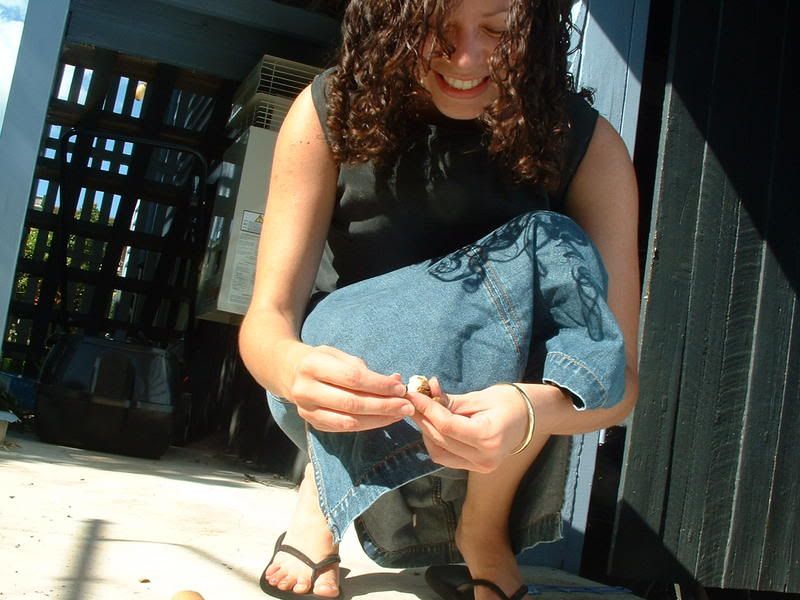 Kate inspects another macadamia nut off the tree in the back yard. What a smile eh?
the earley edition
- Posted by Dave @
2/13/2005 01:55:00 am
||
||
---
Friday, February 11, 2005
North Korea has nukes
Our cat, who has turned down numerous offers to star as an evil genius' lap pet, will soon reach the ripe old age of 11. She spends a good deal of time hacking and coughing, occassionally bringing up that bile in the belly. Two days ago she puked on my carpet, large gobs of undigested dry cat food now slimy projectiles hurtled a body length from herself.
Yesterday North Korea announced they had acquired nuclear weapons. I'm not sure which worries me more, the possibility of evil 'genius' Kim Jong-Il attacking the world or the thought of having to clean cat spew off my carpet again. I'm leaning towards cat spew.
the earley edition
- Posted by Dave @
2/11/2005 03:03:00 pm
||
||
---
Tuesday, February 08, 2005
Dairy me
Let me explain. No, there is too much. Let me sum up.
Well, there was a storm last Wednesday night and our ADSL modem got fried. Today we got a new one. Internet is back on the menu, folks. It was a tough six days, but I made it. So to get us started off the return post will simply answer comments from the last post. So I'm lazy.
chuck - that's too bad. Milk agrees with me all too well. Sometimes I think milk is so agreeable that it's sucking up to me. What have you got to gain out of this relationship, milk? Winning the Great Milk Wars of 2005, that's what.

Suzanne - I know, it's a fat content issue, not a lactose intolerance issue. Although I have considered the taste and it may actually be a taste issue. Milk good.

Tango and Cash - As above, it's more of 'fat-intake-test' issue rather than a 'god-help-me-not-dairy' issue. And you're engrish isn't so bad.

Michael - yes, I have seen the 'no-fat', and I suspect it will be my return to dairy. And welcome back to blogland by the way.

Julie - the crowd has indeed gone wild. And yes, it was for me. Three cheers for me!

Amelia - I'm really glad you cleared that up, because that's what I was thinking. And a freaky teeth losing disease is a terrible thing to waste. Or something. But freaky nonetheless.
the earley edition
- Posted by Dave @
2/08/2005 08:38:00 pm
||
||
---
Tuesday, February 01, 2005
Cheesetastic
I have just encountered, and soundly thrashed I might add, my first test in this post-lactose era. While making a sandwich for lunch the Cheese beckoned, but I said, "No, evil temptress!" I also resisted her siren sisters Mayonnaise and Butter.
| | |
| --- | --- |
| Dave | 1 |
| Dairy Products | 0 |
the earley edition
- Posted by Dave @
2/01/2005 02:59:00 pm
||
||
---
Ode to T - Zion
Continuing with recent days' profligacy, I bring you the first in a short series that has been sitting in draft for quite some time,
Ode to T
.
Bought on a memorable trip to
St Maarten/Martin
, my first and only time in the Caribbean, the shirt is a little more upmarket than your classic black t-shirt with Marley smoking a joint that extends from the left nipple to belly button. Just what I was looking for, a Bob Marley t-shirt, but not garishly, obviously so. Okay, it's bright yellow... What I particularly liked was the lion on the back wearing a crown and carrying a standard above 'Zion'. You can see it in close up if you click on the photo.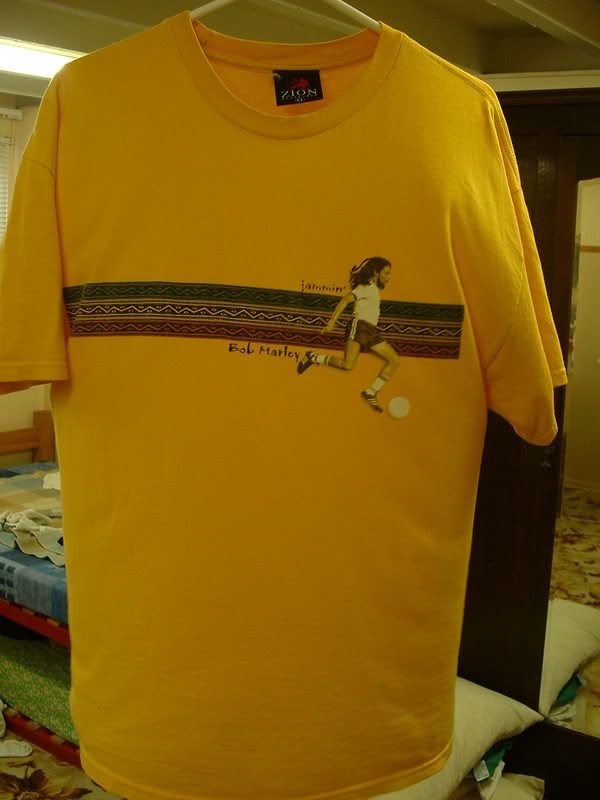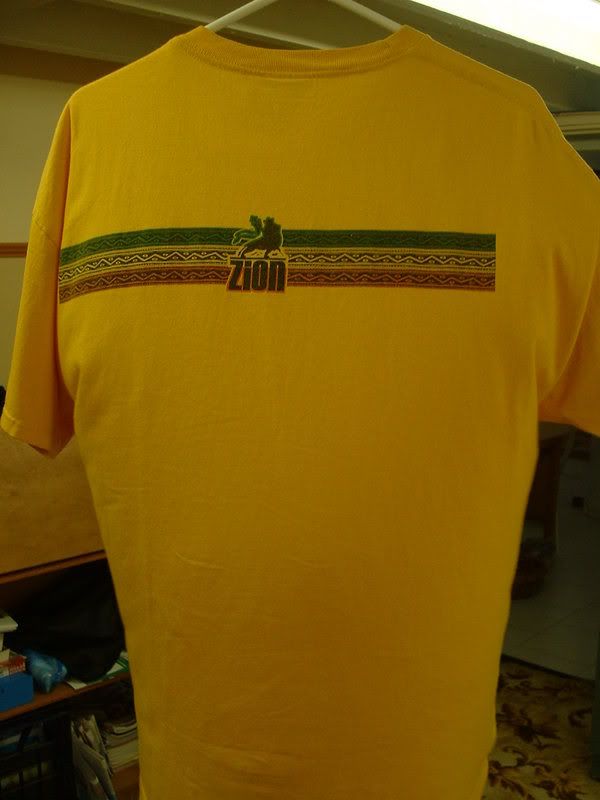 Front Back
the earley edition
- Posted by Dave @
2/01/2005 01:45:00 pm
||
||
---
Cow juice
In an effort to eliminate unnecessary elements of my diet, I am swearing off dairy products.
Cheese? Yep, I can do without.
Milk? Well, I'll still need it for breakfast cereal, but there's soy, right?
This movement away from the bovine extract may only last until I taste soy milk for the first time. And a big, cold glass of milk down the gullet is so, sooo good. I'm already wavering.
the earley edition
- Posted by Dave @
2/01/2005 11:06:00 am
||
||
---
Sunshine
Today holds adventure. I can feel it in my knees. Maybe it's just the gray sky outside though.
In 30 minutes I walk down to the video store to be there for the 9am opening of
!*!

ONE DOLLAR TUESDAY

!*!
. Yes, it's that exciting. I plan to get Eternal Sunshine of the Spotless Mind, which Kate and I never saw at the cinema. But this brings a whole new subject, why do we still call it the 'video store'? I have no intention of getting a video. I want a DVD.
the earley edition
- Posted by Dave @
2/01/2005 08:24:00 am
||
||
---
It's a sad, sad situation
Highlight of work tonight:
After punching out at 1am, ripping the crossword out of yesterday's paper in the break room and thinking, "I can't wait to do this crossword."
the earley edition
- Posted by Dave @
2/01/2005 02:58:00 am
||
||
---