Shut your ears
The media will always lie. Anything bad you hear about us is a lie. Don't believe it! Turn off the television, the radio, unplug your phone, don't collect your mail and, whatever you do, don't talk to your neighbours. We are
"urging people, to not buy the papers, to not read the papers, to not trust what they read about [the] administration in the papers."
Your friendly GOP representative will make a house call to let you know what is, and what is not, the truth. Please remain in your homes with the doors secured until such time. This has been a public service announcement from the administration.
Because we know what's best for you.
the earley edition
- Posted by Dave @
4/28/2005 11:33:00 pm
||
||
---
Monday, April 25, 2005
The Word on the Street
Mark Steyn, John Bolton
apologetic
.
Sir Joh Bjelke-Petersen
, Premier of Queensland for 20-odd years thanks to gerrymandering (
definition here
), has died. For those who don't know, Joh ran an efficiently corrupt
police state
during his time as premier, and thanks to the
Fitzgerald Inquiry
high-ranking policemen are still in jail today. Trust me, if you want to know ask Kate. She knows her politics. I'll leave it at that. I particularly like some quotable quotes at the SMH site. Unfortunately you have to register, so I'll just pass on the one I like the best.
"The greatest thing that could happen to the state and nation is when we get rid of all the media ... then we could live in peace and tranquility and no one would know anything."
And lastly, soccer team
loses 62-0
because the club president orders them to offer no opposition for remainder of match in protest of a referee's decision.
the earley edition
- Posted by Dave @
4/25/2005 12:43:00 am
||
||
---
Sunday, April 24, 2005
Five months
Kate and I have been going out for 5 months now, to the minute. Well, it was somewhere around 1am. Swee-eat.
Went to a friend's engagement party tonight. Myself, Kate and two other friends all went in to get him a 55-litre esky with an additional two freezer packs and 6-bottle cooler because really, why can't the guy get something he thinks is cool? I wanted to throw in some rolls of duct tape or fill it with ice and beer. It didn't happen.
the earley edition
- Posted by Dave @
4/24/2005 01:05:00 am
||
||
---
Thursday, April 21, 2005
The Oppositional Press
A interesting article about what Karl Rove, advisor and campaign manager I think, to President Bush, thinks of the press, based on a talk he gave at a university.
"Reporters now see their role less as discovering facts and fair-mindedly reporting the truth and more as being put on the earth to afflict the comfortable, to be a constant thorn of those in power, whether they are Republican or Democrat," Rove said.
His talk is described in the article as containing four parts:
that there's been an explosion in the number of media outlets;
that these outlets have an insatiable demand for content;
that these changes create enormous competitive pressure; and
that journalists have increasingly adopted an antagonistic attitude toward public officials.
I think it's a fair enough critique. In terms of journalists being antagonistic, I think that stems also from the view that public officials are more often than not being completely untruthful. It's hard not to be antagonistic when you think someone is trying to deliberately mislead you. It is the explosion in the number of media outlets that creates the twofold effect seen in the next critiques: demand for content and competitive pressure. The effect on administration officials being bombarded by demands for information is the selection of specific news they can cater to. You have anything from new semi-professional news organisations, to blogs. A government can't cater to them all if they ask for information at once, so they have to be selective in deciding first which questions to even listen to before secondly deciding which ones to take the time to answer.
It's great that the individual can more and more be their own news organisation through the use of the internet, if they so desire. The potential that has to put excessive pressure on an administration could inhibit them from doing their job, but I won't ever be unhappy to see increasing numbers of people asking the hard questions. Also, I think being a thorn in the side of those in power is important. I'm going to leave it there. I need to go mow a lawn before going to university.
the earley edition
- Posted by Dave @
4/21/2005 08:01:00 am
||
||
---
Re move me
Helped Kate move house today, and I'm mowing the lawn tomorrow morning. Sometimes, there just isn't time for life. This is one of those times. Moreso for Kate. She needs more hours than there are in the day to do everything else at the moment, let alone move house, which is why I'm helping more than what might otherwise be required of me as the significant other. After four and five hours sleep in the last two nights, and another five tonight if I'm lucky, the thought of doing anything at all is aggravating. I'm fraying at the edges. It's easy to ride the adrenalin wave when I'm rushing to get everything done, but when you stop - smack. The wall hits.
It happened tonight at 6.45 after a quarter chicken and chips from Red Rooster, eaten on a polished hardwood floor in an empty livingroom. I sat motionless in the middle of the room, eyes glazed over, as my mind contemplated the body's recent lack of sleep, and the inevitable deprivation coming tonight. I vaguely realised the girls were going back to other rooms to keep cleaning as eyes informed my brain, but moving shapes in the distance were discarded as unnecessary information to be considered. Sleep. Kate said something about taking a nap and directed me to the one bare mattress left in the house, on the floor in her room without a pillow. It was the most inviting, deliciously comfortable bed I had ever seen. I fell onto the mattress and, on the floor next to my head, Kate's goldfish Jonah stared at me through the glass of his bowl while madly gulping water.
I was able to get 45 minutes of sleep before having to get up and go to work. Now, however, it's 2.30am and, once again, there are not enough hours in the day.
the earley edition
- Posted by Dave @
4/21/2005 02:20:00 am
||
||
---
Pope Benedict XVI
Yeah, there's a
new pope
.
the earley edition
- Posted by Dave @
4/21/2005 01:39:00 am
||
||
---
Tuesday, April 19, 2005
Hooligans
Soccer violence isn't confined to European hooliganism. Excuse the language, but
Australian piss-ants
throw their hats into the ring of contenders. It really makes me angry. Not angry enough to throw darts and flares and kill people, but angry nonetheless.
the earley edition
- Posted by Dave @
4/19/2005 01:40:00 am
||
||
---
Sunday, April 17, 2005
Update: Food Force
It's up! The downloads are
available here
, for either Windows (227mb) or Mac (198mb). That's looking like about 2hrs of download time...
Update2:
The Mac version is for OS 9
the earley edition
- Posted by Dave @
4/17/2005 01:23:00 am
||
||
---
Saturday, April 16, 2005
Food Force
If you're concerned about the ills of the world, you most likely are instilling that concern in your children. For that I applaud you. But if your kids are still fascinated by, and spend much of their time playing, shoot-em-up computer games and you're worried about the effect this may be having,
check this out
.
Food Force is a strategy computer game developed by the UN World Food Programme where players try to feed the starving masses. Even better, the game can be downloaded for
FREE
at their website, www.food-force.com. How cool is that?! Okay, that would have been a link, but that website is kaput. So I'll just have to throw some in.
-The
WFP's story
on their own site.
-Watch a Food Force
trailer here
(QuickTime needed).... although I have QT, and it's not working for me...
-
BBC story
about Food Force
-Some
screenshots
from the game (also through BBC)
-More info from
playerthree
And all of them point back to the website that's not working to download it, www.food-force.com. This has become a very annoying post. I was looking forward to downloading the game and trying it.
Newsiness aside, cynicism enter the fray...
What sounds worse?
Ha ha! Smoked him! Did you see?! I blew his head clear off!

or

Mum, I feel so terrible! They died slow horrible deaths because I couldn't distribute the food evenly!
It's sad, really, that most of us would assume the second scenario will create psychological issues for a child, whereas the first one is much better. An aside; I have no idea how the game works because I CAN'T DOWNLOAD IT! That said, the second scenario is completely hypothetical, perhaps nobody dies in Food Force.
the earley edition
- Posted by Dave @
4/16/2005 02:00:00 am
||
||
---
Friday, April 15, 2005
LFC
Liverpool draw 0-0 with Juventus in Turin, taking them through to the semi-finals of the Champions League on a 2-1 aggregate victory over both legs. They'll face Chelsea in the semi-finals. Bring it on you overpaid stable-boys. Well, I have to get my posturing in now before Liverpool is (possibly/likely) beaten. I'll never give up on them though, they were already written off against Juventus... Go the Reds.
the earley edition
- Posted by Dave @
4/15/2005 12:37:00 am
||
||
---
Thursday, April 14, 2005
News Roundup
The headlines that caught my eye in the last 15 minutes:
West Africa: Roving Warriors Recruited for New Conflicts
Thousands of young men and boys, many of whom have committed atrocities while fighting in West Africa's brutal civil wars, face re-recruitment into the region's emerging conflicts, Human Rights Watch said in a new report released today.
Rumsfeld seeks to temper desire for revenge in Iraq
U.S. Defence Secretary Donald Rumsfeld's call for Iraq's new leaders to resist political purges has touched one of the most sensitive issues in Iraq.
Aust in difficult position over non-aggression pact
Australia appears to be becoming increasingly isolated diplomatically in Asia over its refusal to sign ASEAN's Treaty of Amity and Cooperation.
Woman won't sue over finger food
A woman who said she scooped up a human finger along with her chili at a Wendy's restaurant has decided not to sue the fast-food chain.
Arrests made ahead of Juve clash
Italian police have arrested eight Juventus fans ahead of tonight's Champions League encounter with Liverpool.
A Liverpool supporter was hit on the head with a bat last night, leading to the arrests, while there have been further flare-ups today in the lead-up to the quarter-final second leg in Turin.
Chelsea's onfield glory tarnished by Mourinho, backroom team
Chelsea has reached the semifinals of the Champions League and is almost assured of winning its first league title in 50 years.
Instead of glowing with pride, however, the Blues are under fire for an arrogant attitude toward European soccer's governing body, accused of trying to poach one of Arsenal's stars and could be eclipsing Manchester United as the most hated team in English soccer.
the earley edition
- Posted by Dave @
4/14/2005 01:41:00 am
||
||
---
Tuesday, April 12, 2005
TP
You know, the older I get, the more appreciation I have for the finer things in life. Like dunny paper. I haven't bought my own for a while and on doing so the other day thought, "Why pay an extra dollar or two for the name brand? That's ridiculous."
Here's a tip. Pay that little bit extra because, with the cheap stuff, you pay twice my friend.
the earley edition
- Posted by Dave @
4/12/2005 09:55:00 pm
||
||
---
Sunday, April 10, 2005
Toes
From posts about the Pope to the inane. I just pulled off a whole toenail. It won't be long before my big toenail also comes off in one disgusting chunk of hardened skin...or whatever nails, be they on fingers or toes, are made of. This is all thanks to wearing a pair of soccer boots a size too small over a month ago. Not just putting them on and taking them off again, of course, but running around for an hour. I decided a picture would only serve to gross you out... although I'm sure some of you enjoy that sort of thing.
the earley edition
- Posted by Dave @
4/10/2005 12:23:00 pm
||
||
---
Saturday, April 09, 2005
John Paul II - The Great
Well, there was talk a few days ago about the significance of Pope JPII being given the title "The Great". The title hasn't actually been given yet, but as
this story
I found from several days ago on CNN says, for the title to even be mentioned by the Vatican is fairly significant, as it has only been given to two other pope's, both of whom later became saints.
I think you need two proven miracles to get a shot at sainthood. Australia's very own Sister... whats-her-name... taught me that one. As far as I know she didn't get in. But
here we have it
, Australia's claim to a miracle performed by Pope John Paul II. Well, I'm sure they'll come flooding in and he'll become a saint. I just hope we get the claim to fame of first reported miracle.
On another note, thank God security was so tight around the vatican at JP's funeral. Practically the entire leadership of the world could have been taken out in one nasty incident...
the earley edition
- Posted by Dave @
4/09/2005 01:53:00 am
||
||
---
Saturday, April 02, 2005
Well there you go
Not to go all religious nutter on you fine folks out there, but it just seems like the crap is hitting the fan worldwide at the moment. North Korea officially declares it
has nukes
.
Earthquakes
, rumours of
war
(that's a pretty interesting link, by the way), and all that sort of thing.
Pope John Paul II
is about to kick the bucket, which is in some ways not
that
significant, but at the same time is. You know, seeing what direction the Catholic church takes in the future... Anyway, just thinking of that as I sit here absolutely exhausted after soccer today...
So exhausted, in fact, that I fell asleep after writing that, and return now 20 minutes later. Is it worth forcing myself to stay awake to try and watch the
Brisbane Broncos
(Rugby League)
and
Brisbane Lions
(Aussie Rules)
on TV tonight? Spoiled for choice, really. Or perhaps I won't watch the league, since I just saw online that the Broncos are getting thrashed at half-time. At least the Lion's game is live.
Oh, and Mugabe's ZANU-PF continue to control Zimbabwe after
winning the election
there.
the earley edition
- Posted by Dave @
4/02/2005 06:15:00 pm
||
||
---
Gmail
Ah yes, I think I'm going to make the full switch to gmail... I've not been using my gmail account much, but their new rollout is simply too good to ignore. Plans for 2gB-plus of space, but the kicker for me is free POP access and email forwarding... Sweet. Well, it's 2.15am, I have to be up relatively early and have a soccer game in the afternoon, so adios for now folks.
the earley edition
- Posted by Dave @
4/02/2005 02:09:00 am
||
||
---
What the...?
Now, this blog has never been a high traffic generator, and much less so recently. The reason is likely to be the fact I haven't really been attending to it in recent months, posting relatively infrequently. It may also be a result of spending much less time reading and commenting on other blogs, which invariably attracts a few clicks. That said, the last couple of months have seen days of 1 to 5 visitors. What am I going on about? Well I noticed I had a few visitors yesterday, so went to look at my stats and saw 38 visitors on March 10. What the hell happened March 10? I posted about
ordering a DVD
and the
SBS ticker
. No excitement there.
It's also always interesting to see what searches led people here...
imam mahdi signs of his comming
"giant boy"
"There's plenty more where this came from if you"
and....no, i won't include that one...
the earley edition
- Posted by Dave @
4/02/2005 01:50:00 am
||
||
---
Friday, April 01, 2005
meMac
Did I mention my iBook is sweet? Sweet, sweet, sweetness. And now, given my newly acquired time-waster, I can wear with pride the shirt given me by
Chuck
. Actually, I'm a little hesitant to wear it out. Kate has said she's okay with me wearing it in public but, just between you and me, I'm not so sure she/I wouldn't be embarrassed. My dad on the other hand, a look of confusion, a shake of the head. Man of many words. Ha, I can talk. Anyway, this is me in what I will venture to claim is the first ever
spoonfedlabel.com
t-shirt. ... If I can find my camera's USB cord amongst the crap covering my desk. Ah, there she be. And we are away.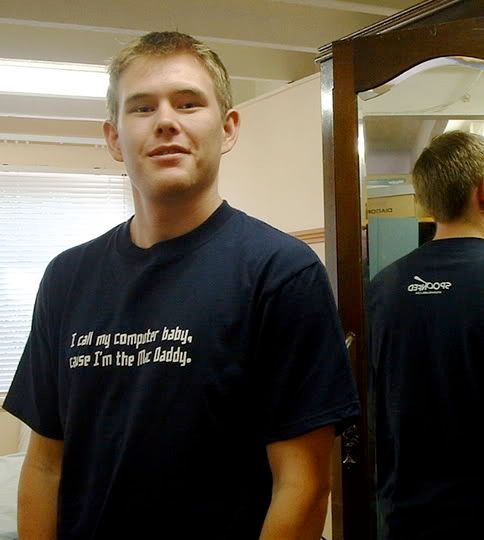 Who's that handsome devil? Oh, it's me.
Update:
it says, in case you can't read it,
I call my computer baby,
cause I'm the Mac Daddy
the earley edition
- Posted by Dave @
4/01/2005 06:53:00 pm
||
||
---
The Word II
In my last post on
the word
, I was talking about my iBook, and later found the time in my busy schedule to include Jesus... Anyway, I alluded to another word. That other word was iPod, which came with my iBook. For a sweet student deal I purchased them together for only $34 more than the retail price of the iBook. I'm not unhappy with that. The iPod (20gB) was a gift for
Kate
, by the way. She's happy with it.
In an update on JPII, he's
suffered heart failure
. I know the hordes aren't coming here for late-breaking news, news that I myself am getting off the internet, but I present it nonetheless. Do with it what you will.
the earley edition
- Posted by Dave @
4/01/2005 04:04:00 pm
||
||
---
JPII
This is how much I know about Catholic ritual. I read the headline
Pope 'receives last rites'
and thought he was dead. I guess it's hard to administer last rites to somebody who has already kicked it. Not long though. Interesting that the story mentions the Catholic church's severe condemnation of the the removal of
Terry Schiavo's
food and water, and suggests an interesting scenario where an essentially comatose pope, and who 'leads' the Catholic church in the meantime.... Anyway. Really liking my iBook.
the earley edition
- Posted by Dave @
4/01/2005 10:54:00 am
||
||
---