Kate
This is a post about my girlfriend, Kate. Now, I think it would be wise to say this post is not entered into without a great deal of thought. That's not guaranteeing anything as to the quality of written expression, emotional quotient or general hilarity and hi-jinks contained. Alright, disclaimer aside, let's get to it.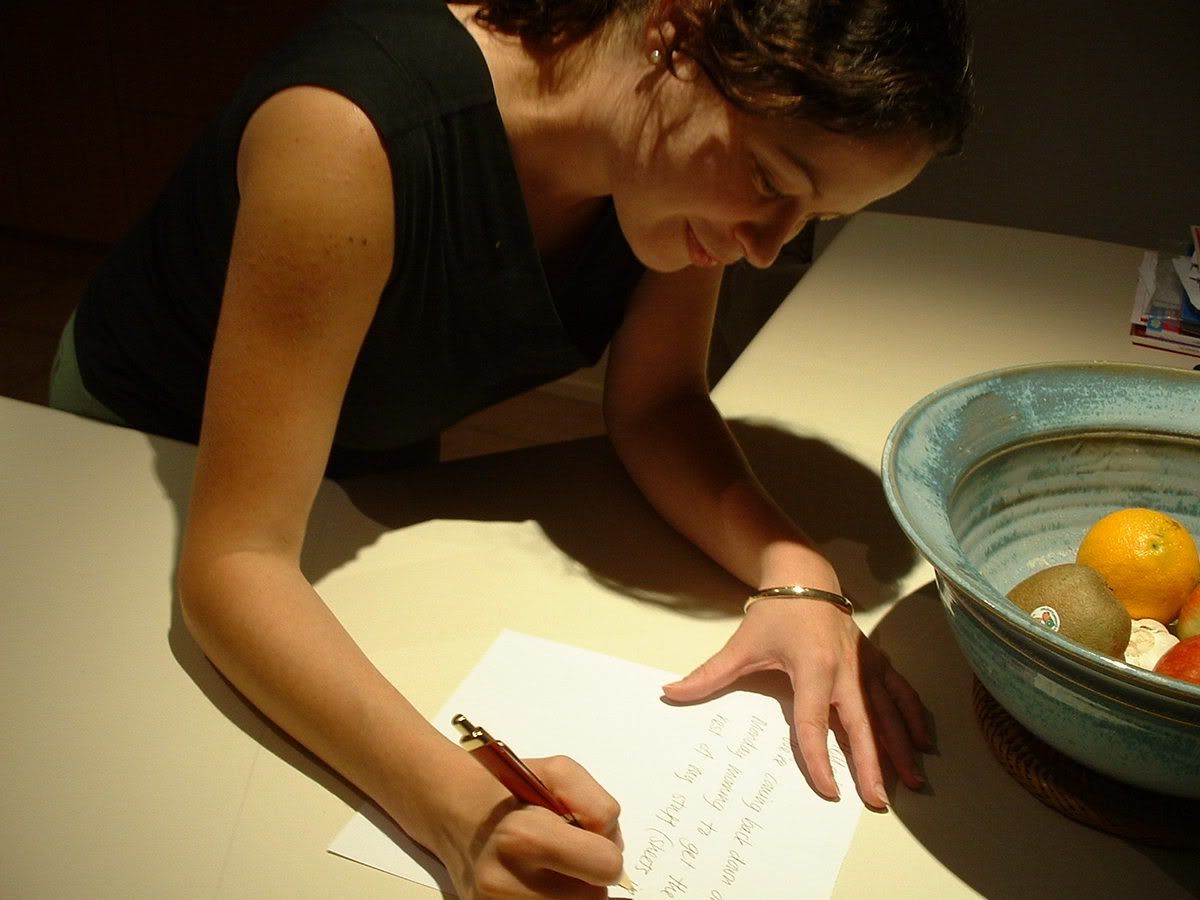 I've known Kate for quite a while, probably a decade or more, but never really
knew
her until two years ago. We went to the same church as adolescents but never ran in the same circles. Even after I returned from the US in 2003 we didn't have much reason to get to know each other and so it wasn't until about 6 months ago that the thought even entered my mind. That thought being, "She's a bit of alright."
The rest being a bit long, I will sum up now why I like Kate. I've been at a bit of a loss as to what I can really tell. How to describe why I like her. I just do. I enjoy spending time with her. I like that her favorite food is popcorn, that she thinks Mike Myers is the funniest person alive and quotes from Wayne's World. I like how when she wants to get something done her slightly obsessive compulsive organisational skills make her a disciplined and hard worker. I think she's one of the funniest women I've ever met and she finds my socially-challenged sense of humour amusing, a feat in itself. I like that she desires more open and honest relationships in the church, and greatly respect her passion for social justice, particularly in relation to disadvantaged women. I like her lips, them's good for kissing. Well, we're being honest. And what a sweet smile! I like that she knows what she wants to do, and is working hard towards that (Bachelor of Law, Bachelor of Arts, now doing post-grad Bachelor Social Work). I like her passion for this great country, Australia, and above all else, what first began to attract me to her, her godly character. Kate wears her heart on her sleeve, and her passion for Christ and obvious excitement at the prospect of fulfillment of the great commission drew me to her.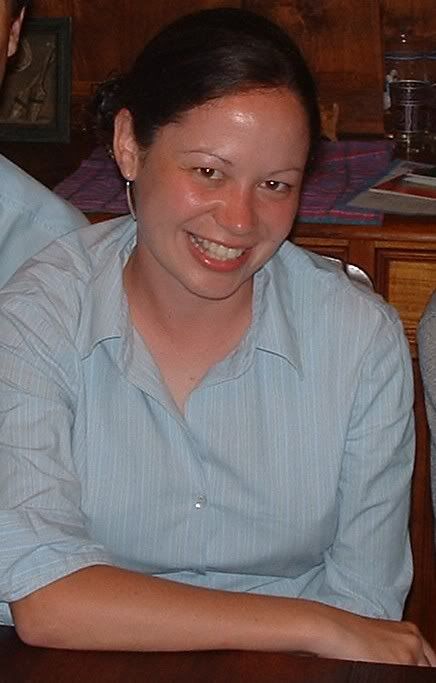 Kate at BeachMission after-party. This was taken early 2003, well before I liked Kate, or she liked me. Not-so-insignificant others Pete and Joel removed from picture; no, not boyfriends.
I have now discovered it was about August last year Kate thought for the first time, "He's pretty nice," while we were in the same small group over a weekend church event. I've got to point out, this is something I like about Kate. She wasn't originally attracted to me just for what she saw on the outside, but something else she saw in me when we really talked for the first time. After that weekend we started to slowly circle each other, interacting more and more often, completely unawares I think to the mild attraction we were feeling towards each other. We started to become friends and about six weeks later, halfway through the university semester, Kate sent an email to ask what was making me so sad. I told her what was really going on with university, the fact it was going down the drain and I was going to fail every class that semester. I've actually still got the response to that email saved as a draft post (
now a real post, backdated
). The long and short of it is she was going through
exactly
the same thing and we ended up 'studying' together to try and do some work, at least enough to pass classes. Yes, we were together almost every day for the last seven or eight weeks of the semester. For that reason, even though we've
only
been going out three months, it seems like five.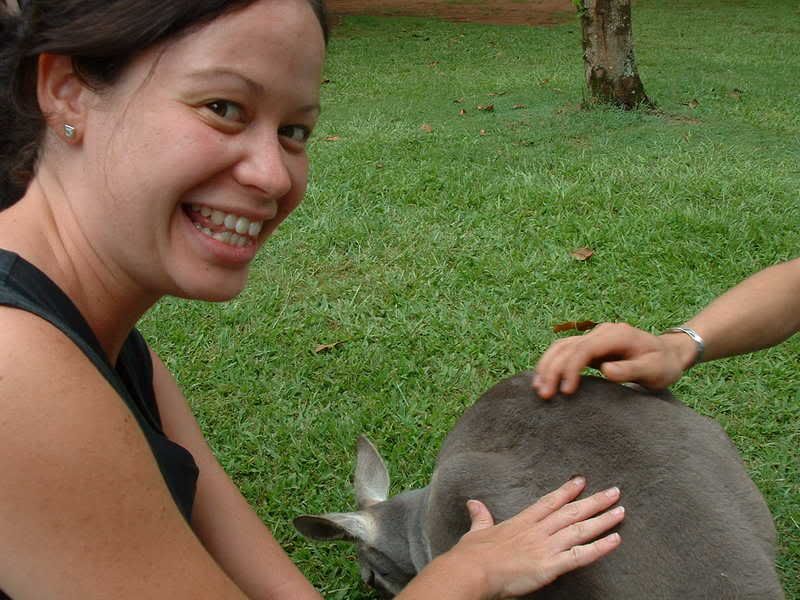 Kate gets touchy-feely with kangaroo at Australia Zoo, Steve Irwin's hideout.
I had already discussed briefly with Roxy, Kate's
flatmate
, and mutual friend, why I had been hesitant to do anything further with Kate, namely our mutual oppressive university loads. It was quite amusing when Roxy sent me a text message telling me to ask Kate about her midnight deadline. Being in the midst of university stress I assumed she was avoiding some assessment that needed to be submitted online by midnight. No, Kate had a deadline, moved back several times already, by which time she expected me to 'make a move', as it were. This was immediately apparent in the following excerpt from a telephone conversation...
Dave:

...sooooo. What have you got due at midnight?


Kate:

(awkward silence)

What?


Dave:

uhhh...I think you have a deadline at

(penny drops)

, huh, midnight.


Kate:

Who told you that?


Dave:

ummm. Haha. Ahhhh, a little birdie.


Kate:

Roxy is so dead.
I had the day before been in contact with a student services counsellor who had written me letters of referral recommending I be granted extensions in three out of four classes, extensions without which I would have failed all three classes. The following texts were exchanged later that night, mine sent after finishing work at midnight.
Dave - 04/11/2004 00:15


If awake(or not),i have a qs.Answer can wait but can qs?Deadline just passed...&valid reason4that-if u'll grant extnsn.Mr Ung supports this application :-)



Kate - 04/11/2004 06:19:35


After careful consideration of your application & due to the surrounding circumstances I have decided to grant you an extension. The extension however is not indefinite & I will expect you to meet deadline as soon as circumstances allow ;-)
And so we had an understanding. After my final assessment was handed in we talked and I asked her out on Wednesday November 24, 2004 (24/11/04). We've gone through some tough times, almost breaking up two weeks after going out because of both our overanalytical natures, and struggling with questions of either our compatability or desire to committ to each other. It's all necessary though. Kate leaves for India in August or September, where she will spend up to one year. We will need to know by then where we stand as a couple.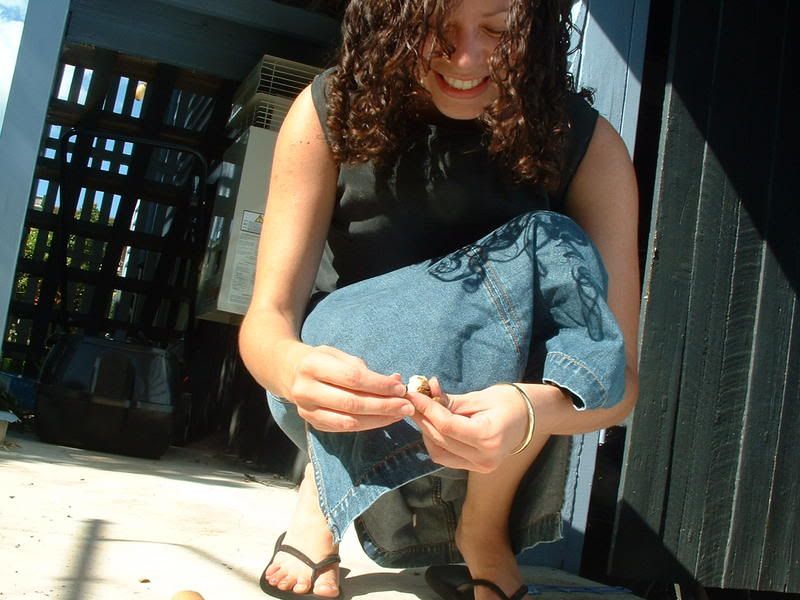 Kate inspects another macadamia nut off the tree in the back yard. What a smile eh?
the earley edition
- Posted by Dave @
2/13/2005 01:55:00 am
||
||
---